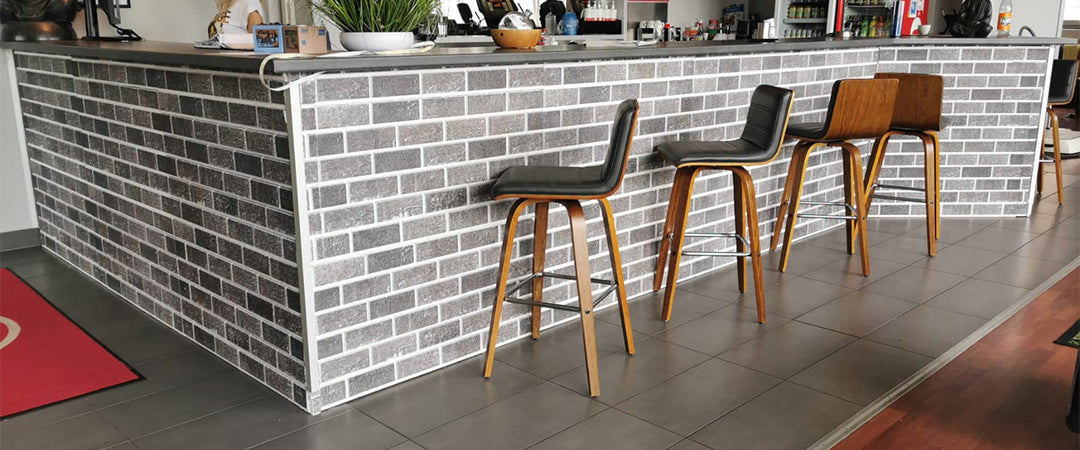 Brick Stone Wall Panels
5 products
Showing 1 - 5 of 5 products
Showing 1 - 5 of 5 products
If you're looking for a different wallcovering solution than painting,changing or applying wallpaper,3D Wall Panels are the place to go. 3D Wall Panels can be easily installed without the need for a craftsman and guarantee a dust-free and clean installation.Needs no renovation,it has a long life.
Elevate any interior or exterior design project with durable faux stone panels that are easy to install, without breaking your budget or skill set. Thanks to this versatile design solution, budget constraints won't stand in the way.
IZODEKOR brick panels are making waves in the world of brick cladding with their stylish, realistic appearance, and easy installation process.
Durable
Nothing embodies timeless elegance and charm like stone walls. However, installing real stones can be labor intensive and expensive, which is why faux brick and stone wall panels have become such an appealing solution for design professionals.
Faux stone and brick panels are constructed using high-density polyurethane that has been injected into a closed mold, making them thicker than peel and stick wall products but light enough for installation on most surfaces. Furthermore, faux brick and stone panels have superior weatherproof qualities than their real-life counterparts, withstanding harsh weather conditions more effectively.
Barron Designs faux brick and stone wall panels make upgrading the facade of your business easily without breaking the bank. Our panels come in many styles that mimic solid brick, stone and wood construction - they even withstand environmental factors and weed wacker attacks!
Easy to install
Few home design elements communicate solidity and tradition quite like stone. Unfortunately, real stone can be costly and complicated to fabricate; that is why so many homeowners turn to faux stone panels instead - affordable IZODEKOR products which make installation quick and painless without needing professional masonry services or high cost labor costs.
These brick panels can be either nailed or screwed onto walls for easy installation. There's even a fire-rated version for added safety! Their appearance mimics dry stacked stones while their mold allows you to stagger them for even placement when installing.
IZODEKOR's brick panel systems can be used to cover an existing brick fireplace, create rustic kitchen backsplashes or even accent walls in bedrooms. Their non-combustible brick panels make them the ideal solution for commercial spaces to achieve an industrial aesthetic and sense of depth. IZODEKOR carries various styles and colors of stone panels so you're sure to find just the right match.
Versatile
Faux brick wall panels add texture to a space, offering versatile design solutions. From creating rustic accent walls to completely covering rooms with faux brick panels, faux brick panels are an economical and long-term design choice that add texture. Faux stone panels may also be combined with other natural elements to create unique interior design themes.
Mortarless stone paneling offers many advantages over traditional masonry: installation is fast, effortless, and can be completed by nearly any contractor; additionally, its lightweight aggregate materials help minimize installer fatigue - making it the ideal solution for projects requiring large areas of stone cladding.
IZODEKOR brick walls and stone panels offer homeowners a quick and cost-effective way to add some visual interest to their homes, without incurring costly mason fees. These decorative wall panels replicate authentic brick, wood or rock without the cost associated with hiring one; additionally they are acoustically friendly making them suitable for residential walls as well as interior and exterior design applications.
Affordable
Brick cladding panels are an affordable and effective design solution that can transform the appearance of any building. Texture Panels' faux brick and stone wall panels come in various styles to meet any aesthetic need - from rustic to contemporary. Plus, our products are constructed using durable polyurethane coating that stands up against weather elements for long-term beauty!
As opposed to traditional brick siding, our lightweight fake wall panels and brick facades can be installed by both professional contractors or ambitious IZODEKOR enthusiasts with ease, saving labor costs while decreasing installation time and energy costs through thermal insulation capabilities. This provides significant cost-cutting potential.
IZODEKOR brick panels provide an attractive yet budget-friendly alternative to genuine stone siding that may otherwise be out of reach for construction projects. You will realize substantial savings that can be used towards other important aspects of your project.
TITLE

INFORMATION

WHY STYROFOAM PANELS

Material

Eps

DIY Products

Price

By Board

Hardly flammable (B1)

m2 / piece

0.5 m2 (5.38 sq. ft)
Easy To Install

Height

50 cm (1.64 ft)

Thermal Insulations

Width

100 cm (3.28 ft)

Resistant & Strong

Thick

2 cm 

(0.07 ft)
Real 3D Brick Effect